Kendall and Becky Goltz own The Little Apiary, a small scale honey production business operating out of Ada, Minnesota. They keep a few dozen hives distributed along four rivers north of Moorhead, MN (the Buffalo, Red, Wild Rice, and Marsh rivers), where the bees gather nectar from a profusion of wildflower sources including clover, basswood, buckbrush, dandelion, willow, goldenrod, and thistle.
Kendall is a retired second generation commercial beekeeper and was a member of a large cooperative honey marketing association for 26 years. A few years after retiring from commercial beekeeping, Kendall began to miss working with bees. Now he keeps contentedly busy working his bees using all natural methods.
To insure the compete natural goodness of Little Apiary honey, Becky and Kendall extract without heat and manage their hives without chemicals. The result is the purest raw honey possible.
Becky is employed at Sanford in Fargo as a physical therapist. She is an avid gardener and has initiated a sideline business selling spring vegetable and herb seedlings started in the basement.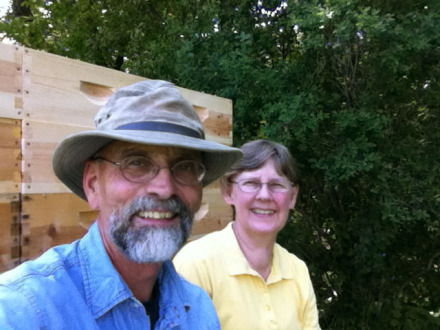 chemical-free, pure raw honey